The Sounds of OPACY: The Baltimore Orioles walk-up playlist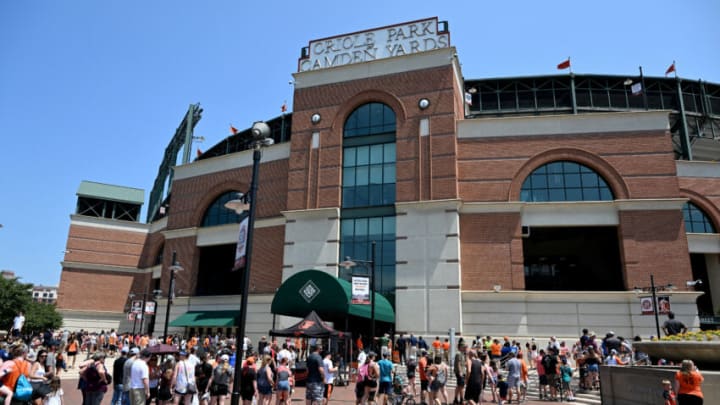 Fans line up to get into the game between the Baltimore Orioles and the Tampa Bay Rays. (Photo by G Fiume/Getty Images) /
Instead of offensive and defensive stats, we wanted to bless your weekend with the sounds of OPACY. More specifically, the Baltimore Orioles walk-up playlist.
Growing up playing baseball, there were three things you thought about. 1) Your batting/pitching stance. 2) Uniform styles. 3) Your walk-up/walk-out song. As a kid, I always paid close attention to every one of the Baltimore Orioles' at-bats because I wanted to be just like them.
Back then, there wasn't an easy way to track music playlists or even look it up at the moment (aging myself a bit). No, you had to do it manually and waste hours upon hours looking up every CD or burn list. Now, however, the MLB and the O's are gracious enough to give us a front-row seat to what our ears hear each time a play comes up to the plate or heads out to the mound.
I have my favorites as well as my question marks, as I am sure you will too, but keeping biases aside, I wanted to share just the rawness of it and the songs that they have picked. Enjoy as we work from the pitcher's mound to the batter's box and give you the latest Baltimore Orioles walk-up playlist and where to find it.
The Sounds of OPACY: The Baltimore Orioles walk-up playlist
Starting Pitchers songs to open the night with:
Kyle Bradish – Mistakes by Loud Luxury and Cat Dealers
John Means – Safe and Sound remix by Rebution (Zion I remix)
Bruce Zimmermann – Rooster by Alice in Chains
Tyler Wells – Legendary by Skillet
Reliever coming in from the pen:
Bryan Baker – Levels (Radio Edit) by Avicii
Logan Gillaspie – Layers by NF
Cionel Perez – HOT by Pitbull & Daddy Yankee
Walk-up sounds from the batter's box:
Robinson Chirinos – Dirt Road Down by Travis Denning
Austin Hays – Need It by Migos
Trey Mancini – Slow Jamz by Twista, Kanye West, and Jamie Foxx
Jorge Mateo – Rico de cuna by Aposento Alto
Ryan McKenna – Dive by Kid Cudi
Ryan Mountcastle – Time Today by Moneybagg Yo
Cedric Mullins – Father Stretch My Hands Pt 1 by Kanye West
Tyler Nevin – Coming Undone by Korn
Adley Rutschman – Gorgeous by Kanye West
Ramon Urías – Yo Visto Así by Bad Bunny
As players come and go, come back to this list and check it out as we will continuously update the Baltimore Orioles walk-up/out songs. This is a stat that often gets overlooked but has such an impact on the mental compacity of the players. Be sure to pay closer attention to the TV or when visiting OPACY. GO O's!