Austin Hays: Smashing his way into Baltimore Orioles folklore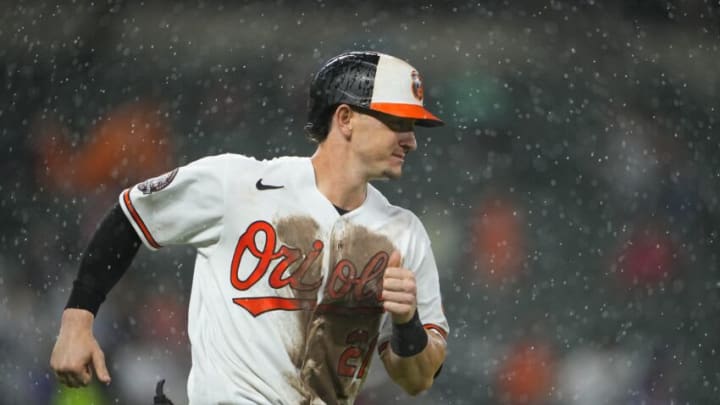 Baltimore Orioles left fielder Austin Hays (21) runs out a home run. Mandatory Credit: Gregory Fisher-USA TODAY Sports /
THE DUDE absolutely walloped a homer into the second-deck last night. Giving Hays' recent trend for the Baltimore Orioles, we decided to break it all down.
Austin Hays stopped for a second to check the catcher and that it was fair, but there was no doubt the Baltimore Orioles leftfielder smashed it into the stratosphere. As the ball landed around a projected 464 feet away from home, and on the right side of the foul pole, the argument was over.
You can use the term folklore, but that kind of showing of power was something else last night for the O's. Raw and historic are a few ways to describe it, and with Statcast only tracking since 2015, only three other balls have left OPACY as far as Hays' dinger went last evening.
Regardless of Statcast tracking or not, this was one only the fourth time a Baltimore Oriole has hit the second-deck in leftfield (three other times by non-O's players). Hays' blast became the third longest ball hit in that direction, only missing the longest moon shot by a matter of mere inches.
Austin Hays: Smashing his way into Baltimore Orioles folklore
Courtesy of MLB.com, here is a list of bombs hit at OPACY since 2015:
1. Carlos Correa (2019): 474 feet
2. Edwin Encarnación (2017): 466 feet
3. Manny Machado (2017): 465 feet
4. Hays (Tuesday): 464 feet
5. Miguel Cabrera (2016): 462 feet
Number two through four were all hit to leftfield, leaving no doubt. Over Austin Hays' career, this dong was the farthest ball he's hit, and by a margin of 43 feet. As far as Baltimore Orioles' dongs this year, Hays now owns the top of that list, even with Trey Mancini's 438-foot blast to the bullpens on Saturday.
So far in 2022, Austin Hays is smashing .292/.359/.467 with an .826 OPS through his 52 games played. For the moment, these are all looking to become career bests for the O's slugger. It appears that Hays has turned his power away from the heater, and has focused more on mashing the breaking and off-speed pitch. Case-in-point, last night.
Austin Hays has gone from hitting the off-speed stuff hard 35% of the time, to roughly 60% of the time so far this season. THE DUDE is someone that we can all be proud of! His progression from 2021 until now is palpable and he is leaning towards earning his first ever All-Star appearance is he keeps it up.