Baltimore Orioles vs. Minnesota Twins Series Preview: Keep momentum kinetic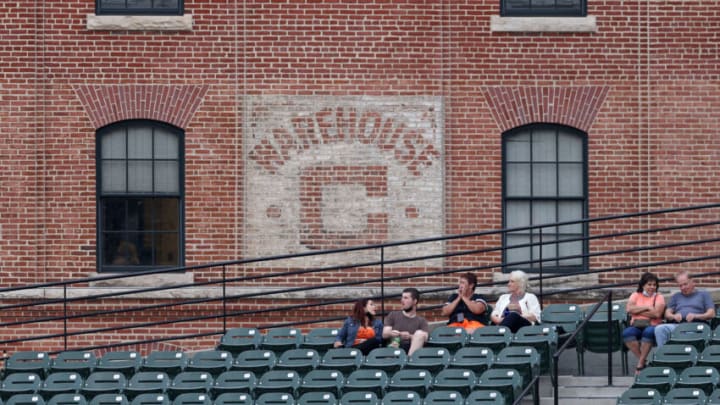 Fans watch the Baltimore Orioles and Minnesota Twins. (Photo by Rob Carr/Getty Images) /
Kyle Bradish #56 of the Baltimore Orioles. (Photo by Mitchell Layton/Getty Images) /
Game 3:
Wednesday, 7:05pm
Starting pitchers: Dylan Bundy (3-1, 2.95 ERA, 19 SO) vs. Kyle Bradish (0-1, 3.00 ERA, 2 SO)
This matchup is without a doubt, Birds Watcher's matchup of the series. Former Orioles pitcher vs. the player he was traded for. After being traded away, Dylan Bundy looked horrendous last season with a plus 6.00 ERA. However, as you can read above this season has been a night and day story for the veteran righty.
What more can we say about Kyle Bradish? Six innings, 2 earned, and 2 strikeouts in his Major League debut. Don't be overly concerned about his strikeout rate at this point, it's only been one game. Good news for Bradish and the rest of the Orioles pitching, however, is that the Twins have been K'd 200 times so far. No better time to get your "payoff" pitch rolling.
Game 4:
Thursday, 7:05pm
Starting pitchers: TBD – Archer? (0-0, 2.93 ERA, 14 SO) vs. Spenser Watkins (0-0, 2.55 ERA, 8 SO)
This matchup is such a ways off, that we are surprised to see the Orioles make a selection for the starting spot. Chris Archer looks to be the hurler for the Twins, make this a game of both pitchers looking to get their first win. Both have been deserving, but neither has gotten it.
Spenser Watkins has had a breakout opening month, and has certainly surprised many lookers on. The once fearful name to see on the lineup card is now a steady one ready to help the O's win. This series really isn't as it appears on paper, so both pitchers will have to do good to earn their win come Thursday night.
Normally when you see a headline of a division leader taking on the one in the 5th spot you automatically think the former will come out on top. However, as sporadic at the Orioles have been, which team will be see? Which offense will step up is the bigger question, and we will all find out on MASN starting in just over an hour! GO O's!