Baltimore Orioles vs. Minnesota Twins Series Preview: Keep momentum kinetic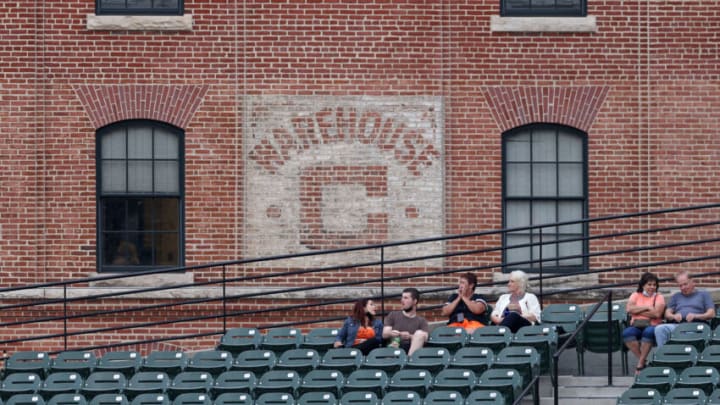 Fans watch the Baltimore Orioles and Minnesota Twins. (Photo by Rob Carr/Getty Images) /
The Baltimore Orioles won their second series of the year! The O's next task at hand, is taking on the AL Central division leaders, the Minnesota Twins.
A familiar face is coming to town this week as the one time Oriole will be taking on his former club but this time in the red and blue of Minnesota. The Twin are the only team in the AL Central with an above .500 winning percentage so the fact that they lead the division is one thing, there competition so far is something completely different and the Baltimore Orioles need to be ready.
Coming into this series the storyline for the Orioles has been twofold. One, where is the hitting (besides Sunday against the BoSox)? Two, how has the pitching been so good? The Minnesota Twins are certainly thinking the same thing coming into Monday night, but for the Orioles sake, let's hope the offense portion of that storyline turns around.
Game 1:
Monday, 7:05pm
Starting pitchers: Chris Paddack (0-2, 3.68 ERA, 13 SO) vs. Tyler Wells (0-2, 5.54 ERA, 10 SO)
Out of the four Twins pitchers expected to toe the line this week, Chris Paddack has the worst ERA. Funny enough, Paddack's ERA in the same as Mike Mussina's career ERA, which is still outstanding. The Twins righty has another mind blowing stat, in the fact that he only walked one batter in the 60 that he has faced.
Tyler Wells, the former Rule-5 pick, has had a rough start to the 2022 season, posting a 5.54 ERA. He, much like Lopez in relief has been an experiment for the Orioles, and so far it hasn't worked well. He held the Yankees to two runs the last time out, so lets hope he can keep the momentum rolling.
Baltimore Orioles vs. Minnesota Twins Series Preview: Keep momentum kinetic
Game 2:
Tuesday, 7:05pm
Starting pitchers: Joe Ryan (3-1, 1.17 ERA, 25 SO) vs. Bruce Zimmermann (1-1, 0.93 ERA, 21 SO)
Jack, I mean Joe Ryan has a weird connection to the Orioles in the way of him being connected to a Nelson Cruz trade somewhere back in the distant past, but has anyone heard of him before 2022? The batting line for Ryan is .132/.205/.237, and it doesn't look to slow down coming into May. This is flat out a bad matchup for the O's, so Big Bruce has a lot of pressure riding on him.
B'more's own Bruce Zimmerman is rocking it with his sub 1.00 ERA and is everything Orioles fans have wanted him to be. The Twins haven't hit lefties all too well, so expect Zimmerman's ERA to still be low come Wednesday morning. This matchup may have been the marque one of the series, if it wasn't for the one coming up next on the list.