Orioles Series Preview: 3 Keys to Beating the Mets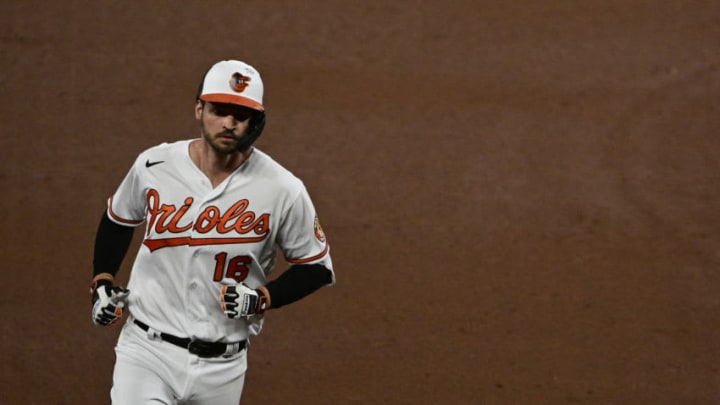 May 10, 2021; Baltimore, Maryland, USA; Baltimore Orioles right fielder Trey Mancini (16) rounds the bases after hitting a home run against the Boston Red Sox at Oriole Park at Camden Yards. Mandatory Credit: Tommy Gilligan-USA TODAY Sports /
What is the Baltimore Orioles' recipe for success in this brief two-game series against the New York Mets?
Coming off a 4-1 victory against the Boston Red Sox, who hold the best record in Major League Baseball, the Baltimore Orioles are set to begin a two-game series in Queens this week against the New York Mets. The NL East leader will be without their ace, Jacob deGrom, in this series after placing him on the 10-day injured list earlier this week due to "right side discomfort," according to the team.
With deGrom missing what would have been a start on Tuesday, the Orioles' offense will instead battle with Marcus Stroman in the series opener. In his 6 starts so far this season, Stroman has pitched very well, posting a 2.12 ERA with a 1.029 WHIP. Stroman has allowed just 3 home runs this season, meaning that Baltimore will have to be ready to manufacture runs if they are hoping to capture early run support for their ace, John Means.
Tuesday's start against the Mets will be Means' encore after tossing the first no-hitter by a single Orioles pitcher since 1969 in his last start. Over the course of this year, Means has been nearly untouchable, recording a 1.37 ERA and a 0.674 WHIP in 7 starts. For the first time in a long time, Baltimore has a starting pitcher from which fans can expect a winnable game against seemingly any team in Major League Baseball.
Here are some of the keys to winning this brief two-game interleague series:
Key 1: Mountcastle and Mancini stay hot
Over the past few series, the big bats in the Baltimore lineup have begun playing as well as many hoped they would. In each of their last 15 games, Ryan Mountcastle and Trey Mancini have combined for 35 hits, 5 home runs, and 21 RBI. Both are batting above .300 and slugging over the .450 mark as well. If these two can manage to stay hot, the offensive production should be there for the Orioles.
Key 2: Harvey's revenge game
On Wednesday, Matt Harvey will start for Baltimore against the New York Mets. The Mets drafted Harvey in the first round of the 2010 MLB Draft and rostered him until partway through the 2018 season. The game will be his first against the Mets in his career, making it somewhat of a revenge game for him. If he can bring his A-game against his former team, it should be an extra confidence boost for the Orioles.
Key 3: End Franco's slump
After a nice start to the season, leading the team in RBI for a significant portion of April, Maikel Franco has fallen into a slump. Over the last two weeks, Franco is slashing a putrid .114/.152/.136 with a -19 wRC+. Getting Franco back on track at the plate would do wonders for the Orioles' offense.