Orioles Look to Rebound Against Rangers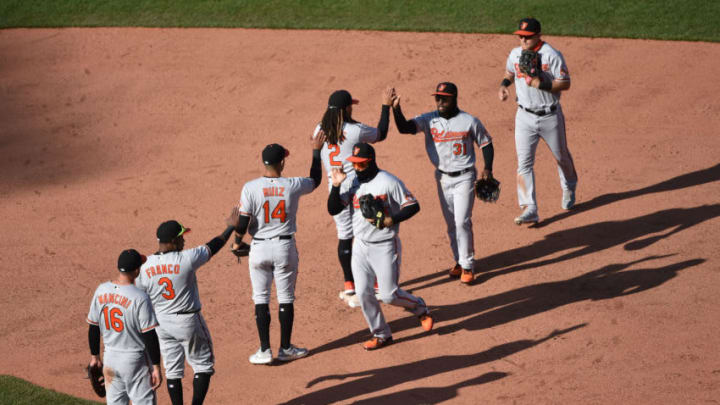 Apr 4, 2021; Boston, Massachusetts, USA; The Baltimore Orioles celebrate their win over the Boston Red Sox at Fenway Park. Mandatory Credit: Bob DeChiara-USA TODAY Sports /
The Baltimore Orioles are set for their second road trip of the season, which may be more important than expected this early in the season.
Baltimore's season started well, as they swept the Boston Red Sox at Fenway Park. Since then, the Orioles have lost eight of 10 games, including six of seven at Camden Yards.
While the Orioles' season is nowhere close to being over, the next several series may turn out to be vital, including an upcoming five-game road trip that begins tonight in Arlington, Texas and concludes Wednesday in Miami.
The Orioles were swept in a doubleheader on Thursday against Seattle, losing by scores of 4-2 and 2-1. They did manage to split the doubleheader on Tuesday against the Mariners but lost the four-game series. The offense only came alive twice during their home-stand, while pitching shut them down in the other five games.
This is where this road trip comes into play. The Orioles need a rebound and want to get the bats going. Pitching has not been terrible for Baltimore, which is something they want to continue. As long as their starters can give them five or six good innings a game, they will win many more games.
The Rangers will be a tough matchup, as they won their last three games against Tampa Bay. But the Orioles are looking to rebound, so they could make for an interesting three games.
Jorge Lopez is set to take the mound for the Orioles Friday night and needs a quality start. On Sunday against Boston, he allowed eight hits and seven runs on four innings of work. Mike Foltynewicz is set to go for Texas, who pitched a gem of a game in his previous start. The game is set for a 8:05 p.m. EST start.