Baltimore Orioles get their shortstop in Freddy Galvis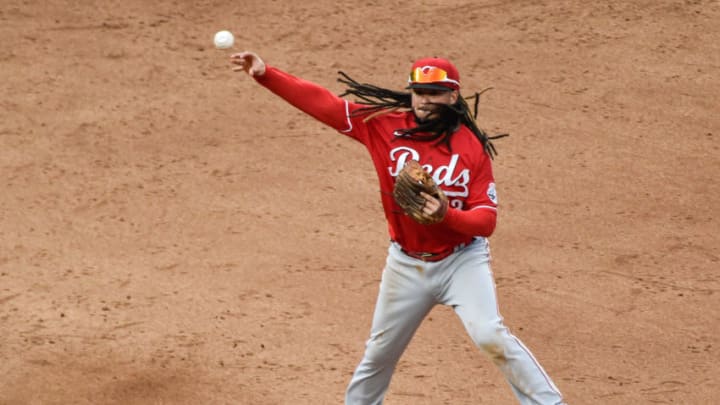 Cincinnati Reds shortstop Freddy Galvis (3) turns the second half of a double play off the bat of Minnesota Twins designated hitter Nelson Cruz (23) during the eighth inning at Target Field. Mandatory Credit: Jeffrey Becker-USA TODAY Sports /
On Tuesday, the Baltimore Orioles signed Freddy Galvis to a one-year, $1.5 million contract, and he will almost certainly be the team's starting shortstop.
Following the trade of Jose Iglesias in early December, Baltimore has had a clear hole at the six-position with limited infield options already on the 40-man roster.
The outlook of Richie Martin and Stevie Wilkerson splitting time was underwhelming, and then there was news Wednesday that Martin will need surgery, sideling him until March.
Signing Galvis was a move many Birdland fans and insiders expected all offseason because Galvis is a reliable veteran within the Orioles' price (i.e. cheap) and does not at all change their rebuilding plans. The major league team still plays games while the farm system improves.
Freddy Galvis gives Baltimore Orioles defensive boost
Galvis is a glove-first player but has shown skill with the bat at times.  He only hit .220 in 2020, but his eight home runs bumped up his slugging percentage over .400 and his OPS to .712, only a little below league average.
I am more hopeful than others that he will find more of his 2019 power when he hit .260 and twenty-three home runs. The main reason his offensive profile is limiting is due to his low walk rates, as he has never reached even a .310 on-base percentage.
What the Orioles are looking forward to is his defense. Galvis was a Gold Glove finalist three straight years when he led the league in fielding percentage from 2016-2018.  If you think fielding percentage is outdated, he also earned 10 outs above average in '18 and '19 each. His defense dipped a bit in 2020, but I don't think it is anything to be concerned about going forward.
There is one wrinkle in Galvis' contract where he will be paid an additional $250,000 if he is traded, which we all know is a distinct possibility. Considering the strong returns GM Mike Elias has gotten from trades in the past year, I don't think many fans will be upset if Galvis is dealt at the trade deadline. Afterward, Richie Martin might be ready to take over the starting job.
Ultimately, this is a signing the Orioles had to make in order to prevent further embarrassment going into this season. Following the frustrating commentator news from MASN, it's good to have something to celebrate this week, even if it is small and unsurprising.