Baltimore Orioles: 2020 AL East Cy Young Candidates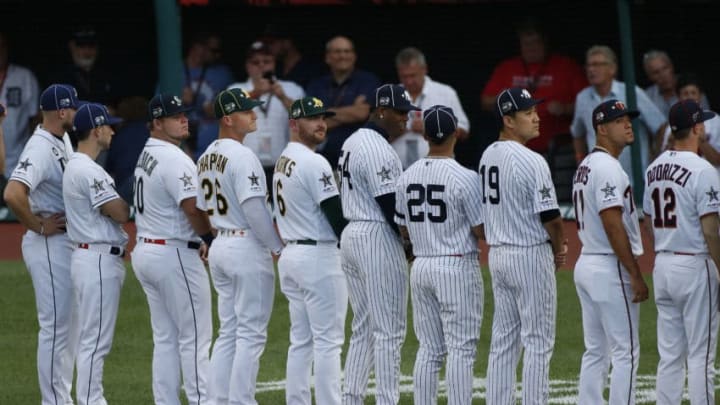 CLEVELAND, OHIO - JULY 09: The American league lines up during the 2019 MLB All-Star Game at Progressive Field on July 09, 2019 in Cleveland, Ohio. (Photo by Kirk Irwin/Getty Images) /
TAMPA, FLORIDA – FEBRUARY 24: Gerrit Cole #45 of the New York Yankees warms up before the spring training game against the Pittsburgh Pirates at Steinbrenner Field on February 24, 2020 in Tampa, Florida. (Photo by Mark Brown/Getty Images) /
These three aren't much of a surprise. We're glad they're in the AL East so we can see them pitch on a regular basis.
3.   Hyun-Jin Ryu, Toronto Blue Jays (2019 NL runner-up, Dodgers) 
Ryu is coming off a historic season with the Dodgers. He placed 2nd in NL Cy Young voting. Now with the Blue Jays, Ryu looks to bring his talents above the border and shut down opposing lineups. Last season, Ryu got off to a hot start and finished much cooler. His ERA was among the league leaders at 2.32 and has a career ERA just under 3.
This is a solid pickup for the Blue Jays, but not much comes after his number-one spot in the rotation. I think he will lead the Blue Jays to five or more wins than last season. The issue is that the Jays are most likely not going to be in contention for a playoff spot this season. There have only been a few Cy Young award winners with losing squads.
After playing in the NL West for six seasons, he has experience pitching in the spotlight. Except instead of hot NL West bats, he'll face the big bats in the AL East.
2.   Tyler Glasnow, Tampa Bay Rays
Another Tampa Bay Ray, Tyler Glasnow is among the best young pitching stars in the MLB. The Rays do it over and over again. They find players at a cheap rate whether, through trade, draft or scouting and they turn into stars. Glasnow was acquired from the Pirates last summer.
He is set to match up against the head of the trade package, Chris Archer in the second game of the series at Tropicana Field. I picked Glasnow ahead of Snell because I think he has the pitching ability to win 15 or more games this season.
We saw him light up the league with a 1.78 ERA in 12 games pitched for Tampa. Look for him to give the Rays an extra push as they fight the Yankees for the top spot in the AL East.
1.     Gerrit Cole, New York Yankees (2019 AL runner-up, Astros)
Cole didn't go to the American League favorites and get a $324 million contract for nothing. He brings an electric fastball along with an eagerness to win a title for his childhood team. Last season, you could almost always write down a win when Cole was on the bump. He led the Astros rotation to a deep playoff push in 2018 and 2019.
Many would consider Cole the favorite to win the award and run through the Orioles and Jays specifically in the division. He will be in the running most years throughout his 9-year deal. If I had to make an AL Cy Young prediction throughout the whole league, Cole would be my choice.
Not quite Cy Young candidates, but look for these AL East starters in 2020:
As the spring moves on, hopefully, we'll all get to see these pitchers do their thing.