Baltimore Orioles: Five Things We Love About The Birds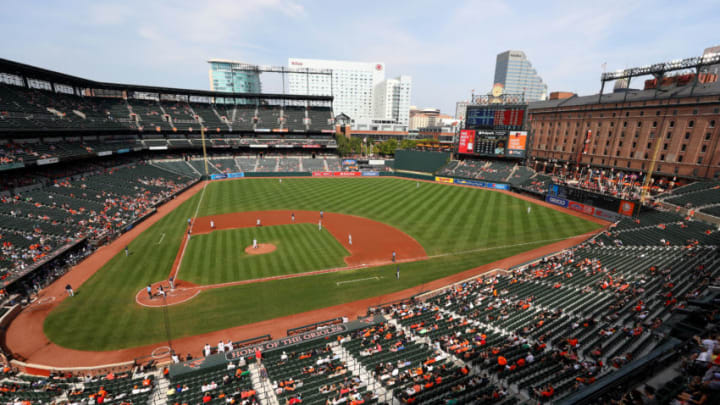 BALTIMORE, MARYLAND - SEPTEMBER 22: A general view of the Baltimore Orioles and Seattle Mariners game at Oriole Park at Camden Yards on September 22, 2019 in Baltimore, Maryland. (Photo by Rob Carr/Getty Images) /
What do you love most about the Baltimore Orioles?
With Valentine's Day today and love in the air, it felt as though it be the right time to list five things we all love about the Baltimore Orioles.
What do you love most about the Orioles? Let us know!
Oriole Park at Camden Yards
Who does not love Camden Yards? It sparked a change for the better across baseball when it opened in 1992 and brought back the classic ballpark look to Major League Baseball as it was more reminiscent of Wrigley Field. It sparked openings of modern classics such as Coors Field in Colorado and T-Mobile Park in Seattle. Almost 30 years after opening, Camden Yards remains as one of the premier venues in the league to watch a ballgame.
Cal Ripken Jr.
The "Iron Man" is a reason to love the Orioles. The consensus greatest player in Orioles' history played a total of 2,632 consecutive games, breaking the record of 2,130 previously held by the "Iron Horse", Lou Gehrig. During his career, Ripken made 19 All-Star games, had over 3,000 hits, and over 400 home runs. He won two Most Valuable Player awards and two Gold Gloves.
The history of the team
Since the Orioles moved from St. Louis to Baltimore in 1954, the franchise has taken a turn for the better, except for maybe the past 20 years. The Birds have won three World Series titles (1966, 1970 and 1983) and appeared in six World Series. The Orioles have won nine American League East titles and have qualified for the playoffs as a Wild Card team three times. They have produced legends such as Ripken Jr., Eddie Murray and Jim Palmer. They also claim one of the more iconic managers of all-time in Earl Weaver.
The 2020 farm system
While the 2020 Orioles are expected to be terrible, the farm system is something to look forward to. The Orioles have four Top 100 prospects, according to MLB Pipeline, including No. 4 prospect Adley Rutschman. The Orioles also have plenty of other prospects in the organization to keep an eye on (you can view our position-by-position break downs here). It will be fun to watch these players develop and hopefully star one day in Baltimore.
Gary Thorne
It was a godsend when longtime national broadcaster Gary Thorne headed to the O's broadcast booth in 2007. He presents the Orioles' games in an exciting way each night and sometimes is the reason to watch these days. His "goodbye home run" call is iconic. He also provides humor with his reactions to Gleyber Torres, etc. We were fortunate have an interview with Gary Thorne here on the site last season, which you can read here!