Baltimore Orioles: Don't Be Upset If The Orioles Don't End Up With Baseball's Worst Record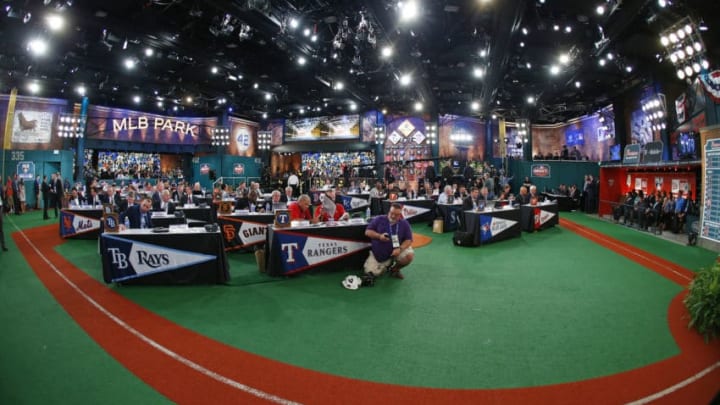 SECAUCUS, NJ - JUNE 5: Representatives from all 30 Major League Baseball teams fill Studio 42 during the MLB First-Year Player Draft at the MLB Network Studio on June 5, 2014 in Secacucus, New Jersey. (Photo by Rich Schultz/Getty Images) /
With the hot play of late, the Baltimore Orioles no longer have baseballs worst record. Rather than be upset fans should enjoy the winning as the top of the 2020 MLB Draft features not one but two-star players.
The Baltimore Orioles are no longer the worst team in baseball. Winners of six of their last 10 and fresh of taking three out of four from the Los Angeles Angels the Orioles (35-71) are now two games better than the Detroit Tigers (31-71).
If the season ended today, Baltimore would hold the second pick of the 2020 MLB Draft. To the fan who is all-in on tanking, this might not be well received. Many O's fans are excited about the possibility of having the first overall pick in back to back seasons. However, fans should not get too fed up if the team ends up with the second pick in the 2020 draft.
Unless there is any major injury or unprecedented drop off it's nearly a lock Georgia Bulldogs pitcher Emerson Hancock and Arizona State first baseman Spencer Torkelson will be the top two picks in the 2020 draft.
Hancock would likely be the better fit for the Orioles as he throws a 98 miles per hour and is known to have great command. Despite Grayson Rodriguez and DL Hall being among the team's top prospects the Orioles did not draft pitching depth early in the 2019 draft and could benefit from adding the top arm in the draft.
If Hancock were to go number one to Detroit, there's still no reason to worry as the O's could wind up with one of the nations most powerful hitters in Torkelson. In 2018 as a freshman, Torkelson broke an Arizona State record held by no other than MLB home run king Barry Bonds. His 25 home runs broke Bonds' freshman home run record. In 2019 Torkelson hit 22 home runs while slashing an impressive .353/.449/.702.
While many Orioles may prefer the pitcher due to Ryan Mountcastle seemingly being the first basemen of the future, there should be no complaints if the O's end up at number two and land Torkelson.
The 2020 draft is not one where there is a major drop off in talent between the top pick and second like in many recent drafts. Thus, if you're an Orioles fan enjoy the winning while it lasts and don't fret if the Tigers end up with the worst record instead of Baltimore.