Baltimore Orioles vs New York Yankees: Opening Day Lineups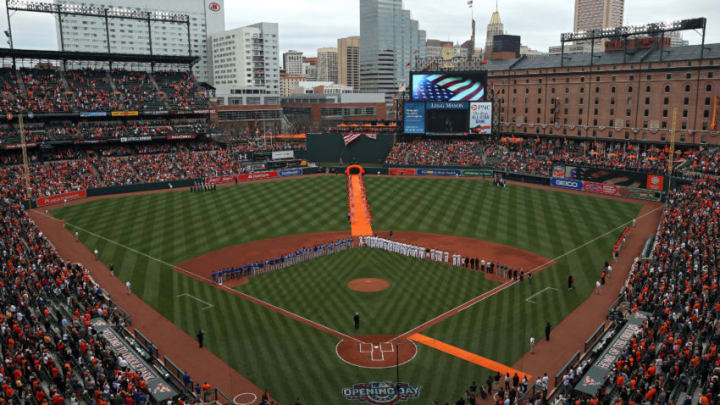 BALTIMORE, MD - APRIL 03: The Baltimore Orioles and the Toronto Blue Jays stand during the national anthem before their Opening Day game at Oriole Park at Camden Yards on April 3, 2017 in Baltimore, Maryland (Photo by Patrick Smith/Getty Images) /
Opening Day is finally here and the lineups have been announced! Here is how the Baltimore Orioles and New York Yankees will lineup on Opening Day.
The first lineup cards are in and we are just hours away from first pitch at Yankee Stadium, ending a long and cold offseason for fans, especially fans of the Baltimore Orioles. Baseball is back, the wait is over, the beer is flowing, and I didn't need an alarm to wake up at 6 am this morning, even though I took off today.
Game one of 162 will feature the Baltimore Orioles and the New York Yankees, an American League East rivalry full of unforgettable moments, epic games, and divisional races that have come down to the wire.
While the 2019 New York Yankees will find themselves battling for a World Series, the 2019 Baltimore Orioles will be trying to keep a starting rotation together and avoid losing 100 or more games for a second-straight season. But that doesn't mean the Orioles are going to let the Yankees walk all over them.
Since 1954, the Orioles and Yankees have played 1,082 games against each other, with the Yankees winning 590 of those contests. For the past two seasons, the Orioles have finished with a 7-12 record against the Yankees. They haven't won a season series since they took 10 of 19 in 2016, the final season of a three-year stretch in which the O's won more than they lost against the Bronx Bombers.
Opening Day Lineups For The Baltimore Orioles And New York Yankees.
MASNsports.com's Steve Melewski compiled the research last night about a few Opening Day facts concerning the Orioles.
Will this lineup be able to make it nine straight Opening Day wins? Here's how both teams stack up for game one (2018 stats included)
Baltimore Orioles Opening Day Lineup
New York Yankees Opening Day LIneup
First pitch is scheduled for 1:05 PM. Let's play ball!