Baltimore Orioles: Breaking Down The Spring Training Non-Roster Invitees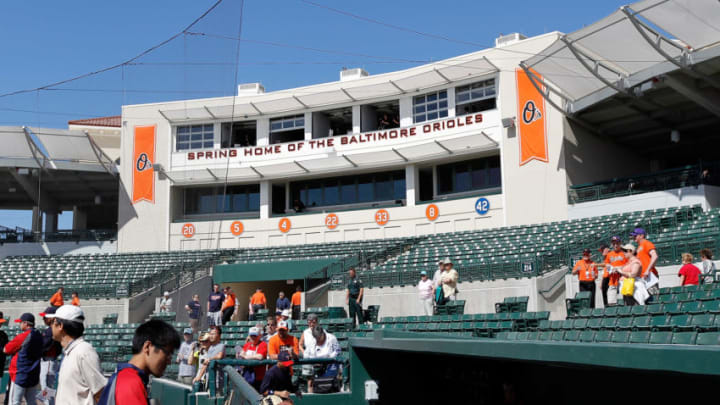 SARASOTA, FL - MARCH 03: A view of the newly renovated Ed Smith Stadium Press Box just before the Grapefruit League Spring Training Game between the Baltimore Orioles and the Minnesota Twins on March 3, 2011 in Sarasota, Florida. (Photo by J. Meric/Getty Images) /
Looking over the list of non-roster players invited to spring training by the Baltimore Orioles, one question emerges: is this possibly the end of the line for some?
The Baltimore Orioles released the list of non-roster invitees to spring training on Friday via press release.  At eighteen invitees, the 2019 list is one shy of the nineteen invited last year.
On Friday, Nick Stevens, a colleague here at Birds Watcher, penned a piece about the players to watch from that list.  When I break down the list, there are a few names that stick out and lead me to wonder if this may be their last shot with the Baltimore Orioles' organization.
What immediately stands out is the fact that six of the eighteen invitees have been signed by new General Manager Mike Elias.  It stands to reason, and makes perfect sense, that the organization would like to get a good look at, and evaluation of, those newly signed players.  Their participation in the big league camp allows direct observation of their potential to help the Orioles this season.
The six new acquisitions are:
Since Elias brought these players in, they have, in my opinion, a better than average chance of remaining in the Baltimore Orioles' organization.  They were signed for a reason and I do not get the sense that the reason was the hope that one or two are a nugget.  Past practices were to sign as many players as possible in order to hopefully find one or two worth keeping; those days may be  done.  Elias is looking for quality so I think there will be quality in each acquisition he makes.
Three players invited were a part of last season's trade with the Los Angeles Dodgers for Manny Machado: OF Yusniel Diaz, RHP Dean Kremer and RHP Zach Pop.  They have only had two months in the Baltimore Orioles organization, so an extended look in spring training by the powers-to-be makes perfect sense, as well.  The Manny Machado trade was a seminal moment for the organization and how these players perform will write the history, either good or bad, for the team's rebuild.
One half of the list (nine players) were acquired by Dan Duquette prior to Elias' arrival in Baltimore.  Elias has absolutely no ties to these players and therefore, for some it may be their final chance to make an impression.  Two of those nine, OF Ryan McKenna and INF Ryan Mountcastle, are top prospects according to MLB Pipeline.  The pair represents the #1 and #12 Orioles' prospect, respectively, and as such were invited to evaluate the optimal placement for them in 2019.
The final seven are the ones I find intriguing:
Looking at this group, Gilmartin, Peterson, Susac, and Ynoa, all have made MLB appearances with the Baltimore Orioles, so their presence is either to determine their usefulness or to showcase their talents to other organizations.  I think Peterson has the best chance to stick with the team, especially in light of new Orioles manager Brandon Hyde's comments yesterday at Fan Fest.
Ynoa is returning from injury, so I am sure he is going to be given every chance to show he is healthy.  Cervenka received consideration for placement on the 40-man roster last November after proving to be a solid backstop in Bowie (AA).  Multiple catchers are needed during spring training so he is there for multiple reasons.  One, as depth to catch the many pitching sessions and two, to see if he can either help the Baltimore Orioles either at Oriole Park at Camden Yards or in Norfolk (AAA).
Spring training may be the final chance for the last two, Lee and Yastrzemski.  Both have had a checkered history with the organization and have been hindered with injuries throughout their time in the Orioles' system.  While having moments of brilliance, the pair has quite frankly failed to live up to expectations.
Lee has an 18-18 record over four seasons in the Orioles organization but does have ties to Elias.  He was in the Houston Astros organization during Elias' time there so that may work in his favor.  Yastrzemski is a career .260/ .337/ .428 hitter over six seasons with the organization.  I feel this pair needs to demonstrate their worth or their time with the Baltimore Orioles is done.
The sense I get looking over the list and breaking it down is that spring training 2019 may be the final chance at major league glory in Baltimore for at least five prospects: Gilmartin, Lee, Susac, Yastrzemski, and Ynoa.
Keep in mind that this is just an educated guess on my part.  Mike Elias and his vision for the players in the organization is relatively unknown at the present time and it may take this season and the next for us to fully understand how he and Sig Mejdal value prospects.
What are your thoughts, Orioles' fans?  Share your comments below.