Baltimore Orioles: Four players who under-performed in 2018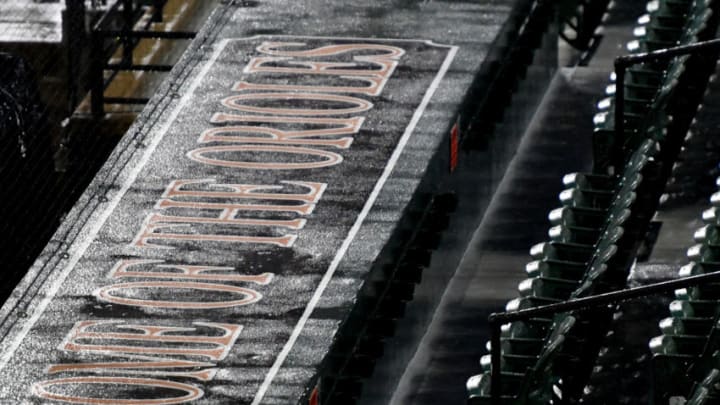 BALTIMORE, MD - SEPTEMBER 27: Empty stands after the baseball game between the Houston Astros and the Baltimore Orioles is canceled at Oriole Park at Camden Yards on September 27, 2018 in Baltimore, Maryland. (Photo by Mitchell Layton/Getty Images) /
BALTIMORE, MD – SEPTEMBER 27: A security guard walks up the stairs after the baseball game between the Houston Astros and the Baltimore Orioles is canceled at Oriole Park at Camden Yards on September 27, 2018 in Baltimore, Maryland. (Photo by Mitchell Layton/Getty Images) /
Sure, the Baltimore Orioles roster was full of disappointing players in 2018, but they were allegedly trying to compete this year. Who were the worst offenders based on early-season projections?
While reading and writing this, you can't help but think that everyone on the Baltimore Orioles roster in 2018 under-performed. And that's true; everything that could've gone wrong for the Orioles this year did, in some way or another.
I get it; why write about under-performing players on a team filled with them? Because nobody expected this team to be this bad. Most of this roster was projected to be significantly better than it ended up being.
2018 was filled with disappointment for the Baltimore Orioles, from injuries to dismal performance, and even to the front office's inability to see the direction of the franchise and choosing to hold on to players like Manny Machado and Kevin Gausman a year too long.
None of us wanted to see Machado leave Baltimore, but we're honest with ourselves (for the most part) and we saw it coming from a mile away.
But for all the bad there was this year, again, it was supposed to be a competitive one for the Orioles. Was this roster always doomed to fail? Maybe. Are the players on the roster better than their performance showed in 2018? In most cases, yes.
So who were the biggest offenders? Who did we have the highest expectations for but fell significantly short of projections?