I made the drive up from Baltimore to Hanover, Pa for a sports banquet where Mark Hendrickson announced he is resigning with the Orioles. Henderson, 35, came off his best season in his 7 year career.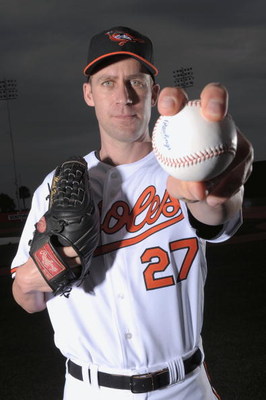 His stats weren't overwhelming impressive 6-5 with a 4.37 ERA in 53 games. His ERA is much better when you take out his 11 starts last season and only add his appearances at the bullpen.
His deal with the Orioles is reported to be one-year, $1.2 million deal with a $1.2 million team option for 2011. Hendrickson took a slight salary cut from last-season to stay with the O's. He lives year-round with his family in York, PA, obviously staying with the Orioles made the most sense for him and his family.
Hendrickson will pitch mainly out of the bullpen, where he was 4-0 with a 3.44 ERA in 2009. If needed, Hendrickson will most likely be the guy out of the bullpen to make a spot start. He will be the lefty out of the bullpen, although, he isn't affective enough to be considered a lefty specialist.
The Orioles will need to remove a player from the 40-man roster to make room for Mark Hendrickson. The most likely candidate to be designated for assignment is Armando Gabino. The Orioles claimed Gabino, 26, off claims from the Minnesota Twins. If Gabino clears waivers, he could still end up pitching for the Tides.